Wholesome, affordable, beachy…this is basically the pinnacle of family travel. If you aren't already in the know, Panama City Beach offers tons to do without the price tag of, say, Key West. Here are 10 totally worthwhile reasons to set your sights on Panama City Beach:
Stretching across 2 miles of beachfront, there are nearly countless ways to get outdoors in St. Andrews State Park. Yes, there's the requisite hiking and biking, but more important are the all the ways you can enjoy those turquoise waves: You can rent canoes, kayaks and snorkeling gear in the park, or pick up fishing supplies at the concession stand. After a long afternoon lapping up the sun, the modest eats here will be looking pretty darn good, too.
Dig your toes into 27 miles of beautiful beaches
Yes, you read that right. 27 miles. Meaning it won't be too hard to find an empty bit of sand to claim with your beach towel. Perhaps even more enticing than the limitless swimming, shell collecting, and boating opportunities is Panama City Beach's status as the 'Wreck Capital of the South', thanks to its numerous shipwrecks. So strap on some diving gear and start exploring!
Yep, it's got wave pools, water slides, a lazy river, and a giant tipping bucket. And if you've ever wanted to experience the thrills of whitewater rafting without risking your neck, head for the not-at-all authentic (but still super fun) Raging Rapids inner-tube ride.
If you've ever found yourself at a zoo thinking, 'Gee, I would love to meet that giraffe,' then you'll get a serious kick out of Zoo World. At this eco center, you can get up close and personal with some of their 200 animals in really cool ways: You can feed a giraffe, cuddle up with lemurs, and make new friends in the free-flight aviary using a budgie stick or two.
Make time for tee time
There are 7 golf courses in Panama City, including the Nicklaus Course at Bay Point, the only golf course in Florida designed by the famous Nicklaus firm. Also here is the picturesque Camp Creek Golf Club, designed by Tom Fazio.
Snag some free souvenirs at Shell Island
There are no food stalls, restrooms, or other creature comforts on Shell Island. And yet beachcombers flock here all the same, thanks to the wealth of pretty shells the island was named for. So come to hunt for shells, and stay for the peacefulness of this underdeveloped, 7-mile-long island. Ferries run from St. Andrew's State Park.
This is Florida at its wildest—24 miles of trails and a mile of boardwalks slice through nearly 3,000 acres of pristine wilderness and wetlands. Despite the wildness, you can enjoy a meal at the shaded picnic areas and outdoor amphitheater (don't worry, there are also restrooms nearby). Best of all, areas of the park are ADA accessible.
Welcome to a family-friendly museum like no other. Learn about the world around you with WonderWorks' 100 hands-on, interactive exhibits. Test your speed and reflexes in the Light & Sound exhibit, land Space Shuttle Discovery in the flight simulator, and see any place on the planet with the Google Earth virtual globe and map. And that's not even the whole tip of the iceberg…
Explore the ocean blue with an underwater Sea-Doo scooter. These handy contraptions will propel you through the water, so all you need to do is slip on a ski mask and snorkel, and enjoy. The best place for snorkeling is probably St. Andrews State Park, and while you won't see any bright coral reefs here, some of those mysterious shipwrecks may be visible when the water's clear.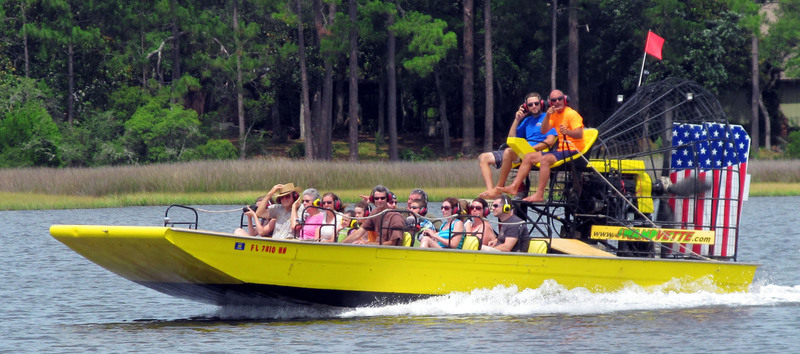 Take a ride on an airboat
Prepare to get a little wet, and climb onto an airboat for a thrilling ride through Gator Country. Learn about the local ecosystem on your boat tour with Airboat Adventures; afterwards, you'll get to meet—and hold—a real-live alligator.
Where to stay in Panama City Beach
Need a place to rest your pretty head? We've got the best vacation rental homes in Panama City Beach. Here are just a few highlights among the many?
Mariner East 27 Panama City Beach vacation rental
The stats: From $98 a month
Price: 1 bedroom; 2 bathrooms; sleeps 8
Stay right on the beach in this newly renovated property, which features brand-new appliances, granite countertops, a beachfront balcony, and some giant flat-screen TVs. And the condo building has plenty to offer beyond that. Think a heated pool, a sauna, tennis courts, shuffleboard, and pool table.
The stats: From $202 a month
Price: 3 bedroom; 2 bathrooms; sleeps 10
Live the good life in this luxe vacation rental home, where you can always soak up some sun and see those gorgeous views—that's thanks to massive windows in nearly every room. Kick back with your morning brew on the covered balcony, or whip up an espresso with the cappuccino machine. Throw in building amenities like a full fitness center and three pools, and you may never leave.
The stats: From $102 a month
Price: 2 bedroom; 2 bathrooms; sleeps 8
This vacation rental home is all about the views. The 10th-floor balcony overlooks a gorgeous stretch of sand, and the rest of the condo isn't bad either—think wifi, washer/dryer, flat-screen TVs, and a formal dining area.
EZ Breezy Panama City Beach vacation rental
The stats: From $397 a month
Price: 5 bedroom; 5.5 bathrooms; sleeps 10
This one's ideal if you're traveling with a group. You can all hang together in the sizable living room, or split off to enjoy the multiple gulf-front balconies, private pool, hot tub, and multiple kitchens and dining areas as you please.